DOWNLOAD OUR CURRENT PRICING GUIDE HERE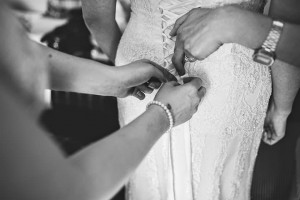 With over 10 years experience, Gemma is an expert in the alteration, re-styling and customizing of bridal gowns and formal wear garments and will do everything to ensure that you are delighted with the final outcome.
From simple adjustments to the fit of your dress to completely restyling to transform it into the dress of your dreams, Gemma will provide a comprehensive range of services to suit your needs.  She always offers alterations that are both appropriate and respectful to the original garment and its construction, ensuring that it looks untouched and fits perfectly once the adjustments are complete. Coordinating items including boleros, stoles, sashes, veils and hair pieces, can also be designed and created to complement your outfit.
Bridal Gown Re-styling and Alterations
Gemma understands that your wedding day is one of the most special and memorable days of your life and that your bridal gown plays a crucial part in this and is of the utmost of importance to you and your confidence on your big day.  No matter the style or design, she will ensure that your gown is adjusted to perfection working hard to provide you with one-to-one consultations and fittings that are both enjoyable and relaxed whilst paying the utmost attention to detail and catering for all your needs.
"'Thank you for the superb work done on my wedding dress. The material for the
back panel matched so well and it was a wonderful fit. I felt wonderful on
my wedding day and I think the dress looked gorgeous.'"
– Helen
Gemma has the ability to perform complex bridal gown alterations and re-styling that you perhaps never even imagined would be possible.  Whether your dress requires a simple bustle, hem, creating straps, neckline re-shape, removing the train, adding beading or the creation of a coordinating accessory to complete your look she can help.
Alteration Process
Initial Consultation/First Fitting
Your initial consultation is FREE of charge and you are under no obligation to proceed with your order at this stage.  At this appointment Gemma will fit for the alterations that you require and provide an accurate quote for the work to be completed.  Where appropriate, she will guide you through suitable fabric and trim options for the adjustments and additions you wish to make to your dress.  Gemma can also guide you through her range of made-to-order bridal accessories or discuss creating a couture item for you, such as a veil, sash, bolero or head piece, to complete your look.
Placing your order
Following your initial consultation/first fitting, should you wish to proceed, a 50% deposit will be required and a signed and dated copy of our terms and conditions returned to the studio before work commences or materials ordered on your behalf.
Fittings
It is advised that you bring the underwear and shoes (or those of the same heel height) that you intend to wear with your wedding dress/garment to your first and all other fittings, and also that you wear minimal make-up to prevent any soiling of your dress.
At your first fitting Gemma will take your measurements (including heel height worn) and your wedding dress/garment will be fitted around the underwear and shoes that are worn at this appointment.   Whilst simple adjustment orders will only require a final fitting/collection, most bridal gown alteration and re-styling orders require at least one intermediary fitting and a final fitting/collection as the work to be completed can be considerable so it is important to check the work with you before completing the finishing touches to your garment.
At your first appointment with us Gemma will arrange fitting dates and times with you to suit your schedule.  She will aim, on most occasions, for your final fitting/collection to be between 2-3 weeks before your wedding day or special occasion.  This allows plenty time and reassurance, especially for a perhaps anxious bride-to-be, knowing that your dress is complete and ready for your big day.
Lead time
The standard lead time is 10 weeks for bridal alterations and 4-6 weeks for formal wear alterations from the date that your order is placed.  Therefore, it is advised that you book your consultation/first fitting for around 14 weeks before your wedding day or 8 weeks prior to a formal event/special occasion.  However, it is advised (especially for dress adjustments required for summer weddings and events) that you contact the studio to arrange your first appointment as soon as possible as the diary can fill quite quickly and, being a small team, the business is only able to take on a certain number of orders at any one time.  On occasion, Gemma is able to complete dress alterations and re-styling orders within shorter timescales than stated above. There is however, a limit to these 'express orders' and, due to the overtime required and pressure of the shorter lead times which they impose, these orders are subject to an express charge of 25% on their labour costs during our busy periods.
Alteration Costs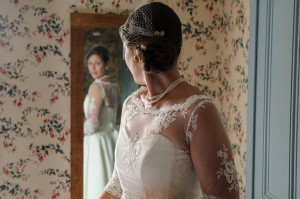 DOWNLOAD OUR CURRENT PRICING GUIDE HERE
For a guide to costs for bridal alterations and formal wear alterations please see the current pricing guide, for your information.
Alterations are priced based on how many hours it will take to complete the work involved and the materials and notions needed.  The exact cost of alterations is largely dependent on the dress/garment itself (its construction, detailing etc) and the complexity of the work that will be involved in altering it.  For example, dresses comprising multiple layers, lace hems and extensive beading will incur higher alteration costs due to the extra time needed to complete the work.  For this reason Gemma is unable to provide an accurate quote for your alterations until she has seen your dress and assessed exactly what will be involved in completing the adjustments and she would therefore advise that you contact the studio to arrange a consultation at your earliest convenience.  This initial consultation is FREE of charge and you are under no obligation to proceed with your order at this stage. It is also advised that you contact the studio directly to discuss any major alterations, design changes and customisations to ensure that any style changes you may have in mind are possible and for a rough idea of cost.
Please click here to download the current pricing guide for bridal alterations and formal wear alterations.
"'I just wanted to let her know how pleased I was with the alterations, it really made all the difference to how the dress looked and felt on me, it fit me like a glove by the time it was finished and I felt fabulous in it! Also just wanted to thank you both for being so helpful and for finding a solution that worked for me in the budget that I had.'"
– Adele